Products and solutions » Building automation » Tecno Service Software
Building Automation: Tecno Service
Tecno Service: Efficiency and Comfort
Tecno Service Software includes the following services:
Light Control and Regulation
Lighting is controlled via the computer: by simply pressing the touch screen in correspondence of a light scenario, the user can control all the lights in a determined environment.
AC Control
AC regulation is a mandatory need to reduce energy costs. A rational and cost-effective control is necessary. Tecno Service represents a powerful solution that can be activated only when needed, eliminating any wastes and providing the users with the maximum comfort.
In an office, an optimal temperature can be set when rooms are occupied, while a low temperature can be set when they are empty. Also, the presence of personnel can be automatically detected and time ranges can be set up at daily and weekly levels.
Access Control
This important service guarantees a maximum level of security in particular environments, such as computer rooms, hotel food stock rooms, garages, or in large environments open to public, such as hotels with congress rooms, companies with massive access of personnel and visitors, etc.
Using Altecon's building automation solutions and the proximity cards, transits and stay durations of people in sensible environments can be controlled and documented.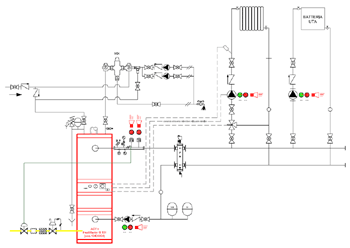 Clic to enlarge
Heat Station Management
This is an important service of the automation that improves the comfort and efficiency of the air-conditioning system, and reduces the relevant costs. The heat station includes heat generators, pumps, electrical panels, temperature measurement tools, and environmental controls. In particular,
Tecno Service:
reports and documents any faults occurred in the pumps, heat generators, etc.
reports and documents abnormal temperatures caused by faults;
controls the alternate utilizations of twin pumps;
remotely controls the electrical panel using a computer.
Alarm and Security Management
This service has been designed to increase the level of security of the plant. Sensible transits are controlled, such as security exits, and particular windows whose opening in particular situations must be reported.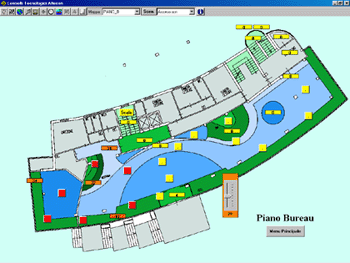 Clic to enlarge
Programmability
All the devices - lights, timers, twilight detectors, thermostats, alarms sensors, ... - can be programmed on site using the easiest tools provided by modern computers.
Electrical Panels Remote Control
This service of the automation is designed to remotely control the electrical panels, via a computer or a control console, and to report any faults, such as protection intervention. The control via computer is very useful because:
manual errors are avoided;
all operations are documented;
the staff become responsible because their interventions are documented.
Maintenance Operations Check
The operations of maintenance on the technological plants are vital for the plant itself, and Tecno Service can be appropriately programmed to:
report the deadline of a maintenance operation;
report the expiry date of a warranty period;
report the expiry date of external service and support contracts;
document the execution of a maintenance operation;
document the execution of a maintenance operation along with the name of the engineering involved in the operation.
Power Consumption
Consumptions are optimised by avoiding wastes and controlling the power peaks to avoid going past the power thresholds that result in a cost increase. To this purpose, Tecno Service detects the consumptions that can be temporarily reduced or interrupted, and automatically intervenes, e.g. by decreasing the dimmered lights, by moving the temperature threshold by 1° C, etc. Once back in the standard operative situation, Tecno Service resets all the parameters.
Reporting
Tecno Service documents operations and activities:
fault signaling with identification of the person who reported it;
scheduled maintenance operations;
revision of faults;
activity diagrams of devices;
diagrams of energy consumption;
diagrams of temperature for each rooms;
people transits in controlled areas;
every automated or manual command executed.
A help service is provided by the software, to help the not technically competent personnel to manage a fault report.
Informations given by computer are:
fault identification;
priority evaluation of the fault;
adviced operations to do;
telephone number of the mainteiner or competent personnel to consult.