Products and solutions
Automation: why?
The energy saving and the consequent benefits to the environment are important subjects on which the European Community has been particularly focusing in the recent years, by issuing a number or rules aimed to increase the buildings' energy efficiency.
Energy Efficiency Standard Rules
The rule EN 15232 introduced the need to adopt the a new technology known as Building Automation Control (BAC), as an integration to the previous rule 2002/91/CE for building classification in terms of energy standards. In particular, in order to obtain a "class A" evaluation, a solution to manage lights and the AC must be adopted according to the new regulation's standards.
Altecon's solutions dedicated to the Building Automation allow you to reach this goal.
Automation products and solutions
Altecon's production is driven by innovation and quality.
We use the top performing components in order to obtain more and more efficient products, with the best price / performance ratio.
We keep designing and developing new and better solutions and production methods, with the primary goals of quality and innovation.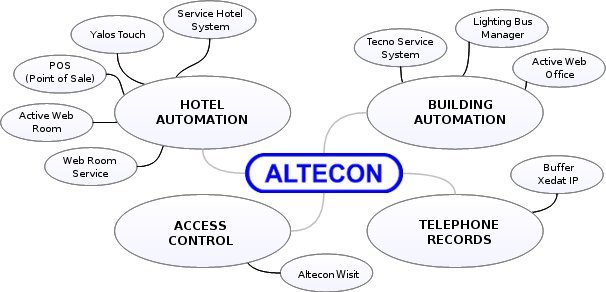 Modularity and Interoperability - Altecon's solutions may be combined to obtain the most suitable solution to every customer need.
The strength points of our automation solutions are modularity and interoperability.
These characteristics allow the building and hotel's automation functions to coexist in our appliances, creating flexible solutions with a great economy.
This is possible thanks to the utilization of advanced technologies such as the IP Communication BUS.