EnOcean

devices in

Altecon

Building Automation

Improving Energy Efficiency in your building is very easy using EnOcean devices.
You don't need wires to connect push buttons or Thermostats or window contacts.
That means high speed and low cost for retrofit and no maintenance cost.

Altecon provides Gateways from EnOcean to common HVAC units and systems.

Altecon Gateways are real Room Controller that in Hotel rooms can control the temperature set-point in function of the presence of the client: when the client leaves the room, the set-point is automatically changed to save energy, and lights are switched off after a programmable delay.
When a window is opened the Altecon controller sends a stop command to HVAC unit, when the window is closed the Altecon controller sends a restart command that resumes the previous set-point.
The temperature set-points are set by Thermostat or IR Remote Control or by Computer Supervisor.
These values may be limited by the Altecon Controller that evaluates if set-point is compatible with a reasonable comfort.
The values of the correction of the set-point operated by Altecon Controller are programmed by EnOcean messages.

Almost all kinds of HVAC units may be interfaced by Altecon Controller:
Fan Coils with 3 speeds and 1 or 2 valves are interfaced by SH324;
Splits with IR Remote Control are interfaced by SH320AC;
Radiators controlled by French "Fil Pilote" are interfaced by SH322.
Altecon interfaces HVAC, managed by a proprietary central Supervisory System, by several protocols:
TCP-IP XML;
TCP-IP BACNET;
TCP-IP MODBUS;
MODBUS RS485 or RS232;
HTTP Daikin;
LonWorks.
SH 320AC
Split IR Controller

SH 322
Fil Pilote Controller

SH 324
Fan Coil Controller
Several options in HVAC Room's Control
Altecon Interfaces and Controllers for HVAC and Lightning - IP Controller with embedded Web Server
EnOncean Interface IR for Split
Altecon SH320
Inside Controller for Clima and Lights

EnOcean Interface for Fan Coil
Inverter 0-10V 1-2 Valves, Altecon SH323
Inside Controller for Clima and Lights

EnOcean Interface for Fan Coil
3-6 Speed 1-2 Valves, Altecon SH324
Inside Controller for Clima and Lights

EnOcean Interface for Radiator
Fil Pilote, Altecon SH322
Inside Controller for Clima and Lights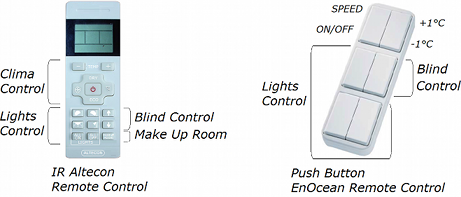 IP Controller with Web Server embedded
Customer are allows to control Lights and HVAC by their own Smart Phone or Tablet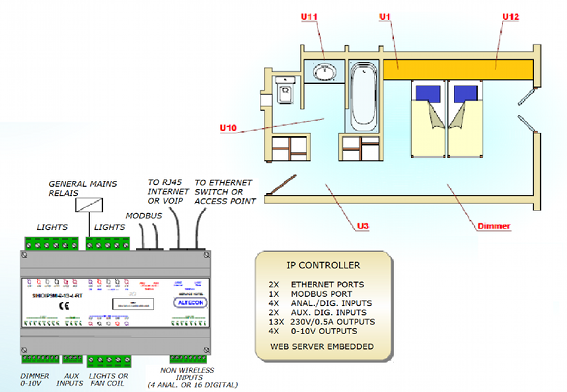 Managing Split by SH322AC Altecon
Room Controller with Gateway from EnOcean to IR Split Control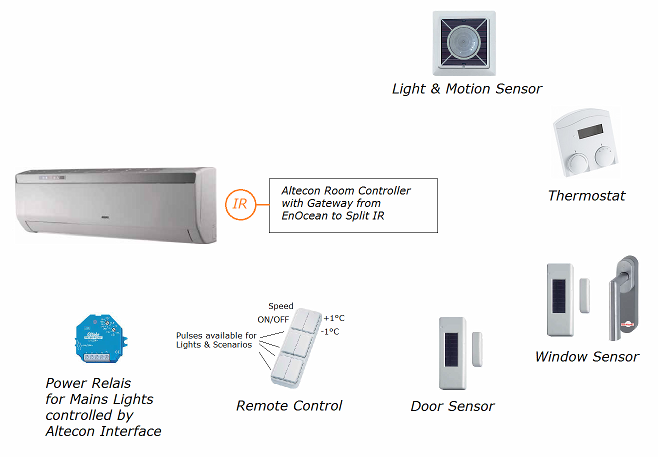 Altecon Controllers interfacing EnOcean to HVAC units or Systems may work on-line or off-line.
Other devices like Access Controls, IO Controllers with embedded Web Server, Lights Dimmer, etc. are implemented in an Altecon network to realize complex solutions.
Altecon Technology uses intensively IP protocol with Web Server Controllers. This allows to easily interface people to Building devices by mean of popular Tablets or Smart Phone.