Wireless buttons

for hotel and building automation
Efficiency, cost-effectiveness and easier design with EnOcean®'s wireless buttons integrated with Altecon's hotel and building automation solutions.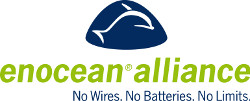 EnOcean®'s wireless buttons, integrated with the IP Central Unit offer a few remarkable advantages both in terms of cost-effectiveness and in simplicity of design of room, even if it is an hotel room or an office.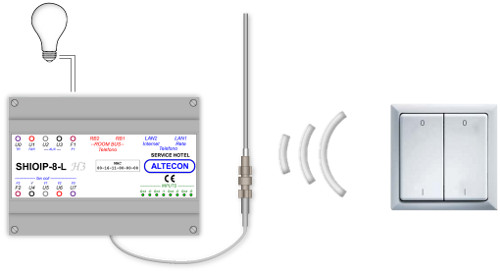 Wireless buttons command directly one or more spot light directly managed by the IP Central Unit
Integration
The wireless buttons communicate directly with Altecon's IP Central Unit. This allows to immediately interact with the management of the outputs, realized by the IP Central Unit. Thus, it's possible to create and modify every scenery or change the single spot light commanded in real time, without the need of a manual intervention on the buttons.
The integration also allows to maintain available every control and management function provided by the automation services, therefore archiving a completely wireless building automation system.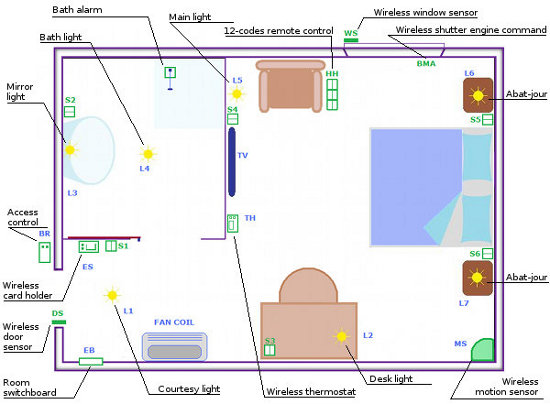 Smart Web Hotel - hotel room concept with wireless hotel automation services.
Click on the image to read the related article
Easier design, full control
The wireless buttons do not need any electrical wiring nor a communication bus and they do not require a power supply nor a battery. Relocating a wireless button do not require any construction work. These features make the buttons a very valuable option in case of renovation or if the current building hasn't been designed to host an automation system.
Every IP Central unit can host up to 64 different wireless buttons, each one operating on its own scenery, single spot light or a specific command.
Single outputs can have many different functions, which include single lights to rolling shutter commands.
Specific commands include activating alarms and events, as the wireless bath alarm or interfacing with the movement sensor, also available in the wireless version.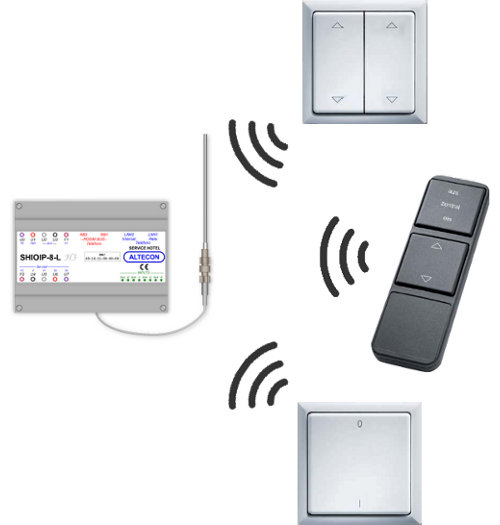 An IP Central unit supports many buttons, each one commanding one or more outputs, scenery or send commands like alarms and events